Our main research interests include:
computer vision, surveillance:
crowd analysis, crowd counting, crowd tracking, dynamic textures, motion segmentation, motion analysis, image captioning and annotation, image retrieval.
machine learning, pattern recognition:
probabilistic graphical models, deep learning, Bayesian models, Gaussian processes.
computer audition, music information retrieval:
semantic music annotation and retrieval, music segmentation.
eye gaze analysis:
modeling eye movements with hidden Markov models (HMMs), clustering HMMs
data-driven computer graphics:
data-driven graphic design, machine learning for graphics.
In particular, we aim to develop machine learning models, such as generative probabilistic models and deep learning models, of images, video, and sound that can be applied to computer vision and computer audition problems, such as crowd monitoring, image understanding, and music understanding. Our current research projects are listed below.
2023
2022
2021
2020
2019
2018
2017
2016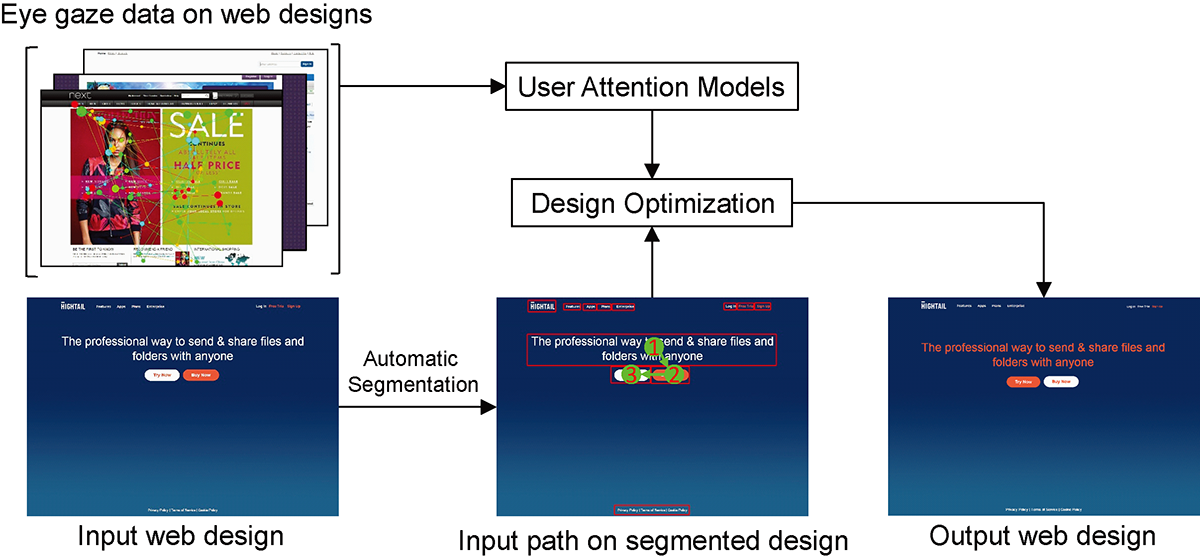 2015
2014
2013
2012
2011
Music Annotation with Time-Series Models
We propose an approach to automatic music annotation and retrieval that is based on the dynamic texture mixture, a generative time series model of musical content. The new annotation model better captures temporal (e.g., rhythmical) aspects as well as timbral content.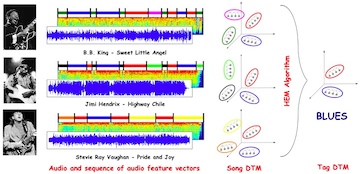 Background Subtraction in Dynamic Scenes
The background model is based on a generalization of the Stauffer-Grimson background model, where each mixture component is a dynamic texture. We derive an on-line algorithm for updating the parameters using a set of sufficient statistics of the model.

2010
Segmenting Musical Structure
We model a time-series of audio feature vectors, extracted from a short audio fragment, as a dynamic texture. The musical structure of a song (e.g. chorus, verse, and bridge) is discovered by segmenting the song using the mixture of dynamic textures. The song segmentations are used for song retrieval, song annotation, and database visualization.
Luke Barrington, Antoni B. Chan, and Gert R.G. Lanckriet, "

Modeling music as a dynamic texture.

" IEEE Trans. on Audio, Speech and Language Processing (TASLP), 18(3):602-612, Mar 2010.

2009
Layered Dynamic Textures
One disadvantage of the dynamic texture is its inability to account for multiple co-occuring textures in a single video. We extend the dynamic texture to a multi-state (layered) dynamic texture that can learn regions containing different dynamic textures.
Antoni B. Chan and Nuno Vasconcelos, "

Layered dynamic textures.

" IEEE Trans. on Pattern Analysis and Machine Intelligence (TPAMI), 31(10):1862-1879, Oct 2009.

2008
Mixtures of Dynamic Textures
We introduce the mixture of dynamic textures, which models a collection of video as samples from a set of dynamic textures. We use the model for video clustering and motion segmentation.

2007
2005
Classification and Retrieval of Traffic Video
We classify traffic congestion in video by representing the video as a dynamic texture, and classifying it using an SVM with a probabilistic kernel (the KL kernel). The resulting classifier is robust to noise and lighting changes.