Our main research interests include:
computer vision, surveillance:
dynamic textures, motion segmentation, motion analysis, semantic image annotation, image retrieval, crowd counting.
machine learning, pattern recognition:
probabilistic graphical models, support vector machines, Bayesian regression, Gaussian processes.
computer audition, music information retrieval:
semantic music annotation and retrieval, music segmentation.
eye gaze analysis:
modeling eye movements with hidden Markov models (HMMs), clustering HMMs
In particular, we aim to develop generative probabilistic models of images, video, and sound that can be applied to computer vision and computer audition problems, such as traffic surveillance, crowd monitoring, semantic image annotation, and music segmentation. Our current research projects are listed below.
Dynamic Texture Models
A family of generative stochastic dynamic texture models for analyzing motion in video, and time-series in general (project overview).
Generic Single Object Tracking
Localizing generic single objects in videos given the bounding box marked in the first frame.
Understanding Video of Crowded Environments
Motion segmentation and motion classification in video of crowded environments, such as pedestrian scenes and highway traffic.
Human Pose Recognition and Tracking
Recognizing and tracking 2D and 3D human pose in images and videos.
Data-Driven Computer Graphics
Eye-Gaze Analysis
Music Analysis
Music Annotation with Time-Series Models
We propose an approach to automatic music annotation and retrieval that is based on the dynamic texture mixture, a generative time series model of musical content. The new annotation model better captures temporal (e.g., rhythmical) aspects as well as timbral content.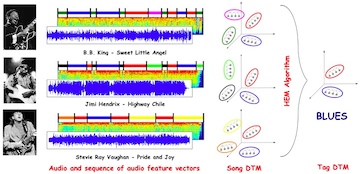 Segmenting Musical Structure
We model a time-series of audio feature vectors, extracted from a short audio fragment, as a dynamic texture. The musical structure of a song (e.g. chorus, verse, and bridge) is discovered by segmenting the song using the mixture of dynamic textures. The song segmentations are used for song retrieval, song annotation, and database visualization.
Luke Barrington, Antoni B. Chan, and Gert R.G. Lanckriet, "

Modeling music as a dynamic texture.

" IEEE Trans. on Audio, Speech and Language Processing (TASLP), 18(3):602-612, Mar 2010.

Image Analysis
Semantic Image Annotation
We annotate images using supervised multi-class labeling (SML), which treats semantic annotation as a multi-class classification problem. The system is scalable, and was applied to image databases with 60,000 images.